Tillbaka till startsidan - Back to start page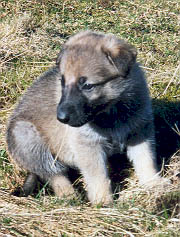 Fuerza´s Kaksi
(5 februari 2002 - 27 juni 2014) (5th of Februar 2002 - 27th of June 2014)
Tryck på årtalen och se på bilder av Kaksi och övriga familjen.
Press on the years and look at more pictures
Kaksi år 2009-2010 2011-2012-2013-2014
Tävlingsresultat 2003 - 2013 Results from competitions 2003 - 2013
Kaksi kommer från kennel Fuerza i Tidaholm. Kaksi comes from the kennel Fuerza in Tidaholm www.kennelfuerza.se
Hon är släkt med min förre schäferhane Fuerza´s Ito född 1995. Ito - my old German Shepherd male was her uncle. Han var hennes morbror.
Några minnesvärda händelser i mitt och Kaksis liv - på tävlingsfronten:
Some events I remember:
Vi kom på 3:e plats vid SM 2007 i Piteå!
We were No. 3 at the Swedish Championship
(SC) 2007 in Piteå.

Äntligen kom vi på att Kaksi kunde få en titel trots att hon saknar en tand ...och därmed inte fick någon utställningsmerit.
Tredje spårcertet togs 19 juni 2005. Hon har i alla fall nu tilldelats Svenskt Spårprovschampionat.
Kaksi has got the Tracking Champion title even if she misses one tooth ... but so are the rules for a Working Champion title.
Vid SM 2007 i Piteå blev vi 3:a i spårgr
At the Swedish Championship for tracking dogs we were No. 3 in 2007.

Inki&Kaksi Vinnare SSM spår 2005
Winner of Swedish Championship for German Shepherds in 2005.
Våra tävlingsmeriter/Results from our competitions