AIM 1 in Spain 7-8/2 + 18-19/4 2009 - look at special page.

Visit to Spain 2007 - look at special page

Visit to Spain 2004 - look at special page
Here we present the books and videofilms which have been translated to
castellano.
Plan de trabajo
Paso 1,2,3
El perro de rastro
La búsqueda de objetos
DVD
Valoracion de temperamento del perro
AIM - booklet Adiestramiento orientado a la creación de la Imagen Mental
Press on the picture and you can read the pages!
Libro
Obediencia Básica

DVD
Obediencia básica

Libro
Obediencia Classe Internacional

DVD
Obediencia Classe Internacional
Plan de Trabajo - Formación de monitores de curso
Lectures, seminars and courses with
Charlas, seminarios y cursos con


Inki Sjösten



Inki

has 35 years of experience from training dogs for general obedience, obedience for competition, tracking, searching and rapport. She has owned six dogs during the years and they have all competed on highest level and all six have participated at the Swedish Championship. 2006 is the 13th time. Now with German Shepherd Kaksi – 7 yours old.
Inki tiene una experiencia de 35 años en el adiestramiento de perros en obediencia básica, obediencia para competición, rastro, búsqueda y cobro. A lo largo de los años ha tenido seis perros y todos ellos han competido en la más alta competición yparticipado en competiciones en Suecia. Por 13ª vez en el 2006, con el Pastor Alemán de 7 años Kaksi.

Inki

is also a judge for working and obedience classes.
Es, además, juez de pruebas de trabajo y obediencia.

Inki

has written six books – two of them are translated to six other languages – and together with her husband Roland they have produced also eight videos – two of them translated to Spanish.
Ha escrito seis libros – dos de ellos traducidos a seis idiomas – y junto con su esposo Roland también ha producido ocho vídeos, dos de ellos traducidos al castellano.

Inki

has developed course material for her books through work plans to be used by the participants of the courses. This way to learn is very serious and the theoretical knowledge makes the dog owners train in a good way – also after the course.
En sus libros ha desarrollado material para cursos con planes de trabajo que pueden ser utilizados por los alumnos. Es un modo muy serio de aprender y los conocimientos teóricos hacen que los propietarios de perros puedan enfocar correctamente el adiestramiento, también después del curso.

Inki

cooperates with dog clubs in Sweden, Denmark, Finland, Norway, Estonia, Italy, Poland, France and hopefully also in Spain. The seminars and leader courses are from general obedience to instructor´s courses for working and obedience for competition.
Inki colabora con clubs de adiestramiento en Suiza, Dinamarca, Finlandia, Noruega, Estonia, Italia, Polonia, Francia, y es de esperar que en breve también en España. Los seminarios y cursos de monitores son tanto para obediencia básica como para pruebas de trabajo y obediencia de competición.
General ethology and general obedience
Contents: Relationship between dog-owner and dog. Learning of words for general obedience. "What is said is valid"-training. Learning method is Mental objective-oriented training. Training of dogs. Mental activation - tracking, searching man and/or objects. Literature and DVD in Spanish.
Etología y obediencia básica
Contenidos: Interacción propietario-perro. Aprendizaje de las órdenes de obediencia básica. "Lo que digo es lo que vale" en adiestramiento. Aprendizaje del método de Adiestramiento orientado a la creación de la imágenes mentales. El adiestramiento de los perros. Activación mental, rastro, búsqueda de personas o/y objetos. Bibliografía y DVD en castellano.
Education of obedience for competition
Target: Knowledge about the learning of obedience for precision to be able to compete. Contents: General obedience as previous knowledge. Description of the dog. Motivation. Learning. Learning order. Mental Objective-oriented Training. Praise/reward. Rules. Judge. Shows and instructions of the exercises. Training in small groups. Literature and DVD in Spanish.
Adiestramiento para obediencia de competición
Objetivos: Conocimientos sobre el aprendizaje de la respuesta de precisión para poder competir. Contenidos: Conocimientos previos de Obediencia básica. Descripción del perro. Motivación. Aprendizaje. Aprendizaje de las órdenes. Adiestramiento orientado al establecimiento de imágenes mentales. Premios/recompensas. Reglas. Juicios. Demostraciones e intrucciones de los ejercicios. Adiestramiento en grupos reducidos. Bibliografía y DVD en castellano.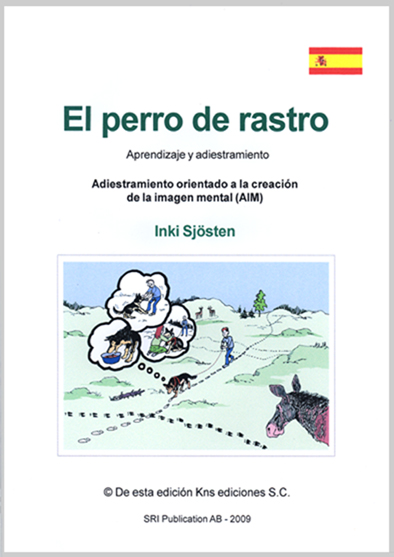 Tracking, Searching man or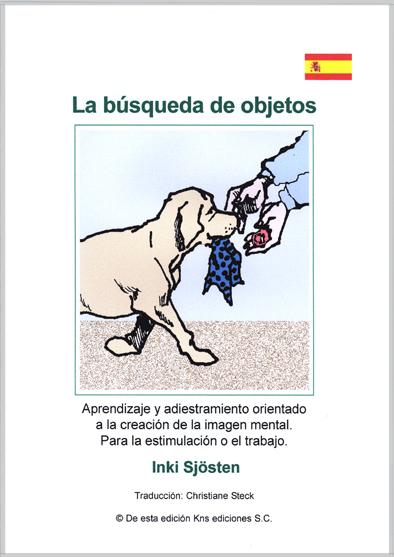 objects resp. Mail carrying for competition or activation


Contents: Theoretical and practical education after available time.
Literature in English.

Rastro, búsqueda de personas u objetos. Competición de envío de mensajes o activación.
Contenidos: Formación teórica y práctica en función del tiempo disponible.
Bibliografía en Inglés.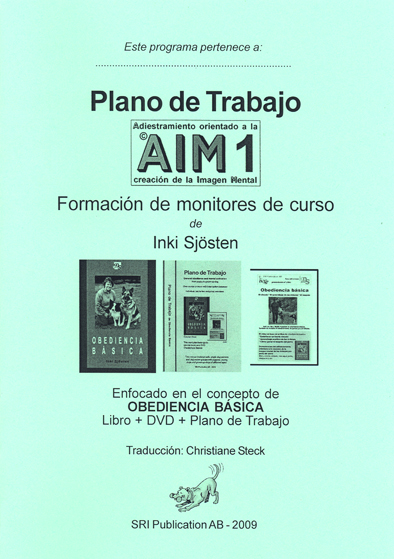 (Course)Leader education for dog clubs - competence development


Accordning to special wishes. Work plans are given free.

Formación de monitores para clubs de adiestramiento: desarrollo de programa de capacitación (Curso).
Según necesidades. Se entregan gratuitamente los planes de trabajo.
Booking:

SRI Publication AB, Bokonvagen 13, SE-372 92 Kallinge, Sweden
Tel. +46-457-230 09 Mobile +46-708-230 999. Fax +46-457-230 35.
E-mail: inki@sripublication.se Web site: www.sripublication.se
Price: Flight to Spain + staying costs + EUR 500/week-end.
Reservas:
SRI Publication AB, Bokonvagen 13, SE-372 92 Kallinge, Suecia
Tel. +46-457-230 09 Móvil + 46-708-230 999. Fax +46-457-230 35
e-mail: inki@sripublication.se web site:
www.sripublication.se
Tillbaka till startsidan - Back to start page